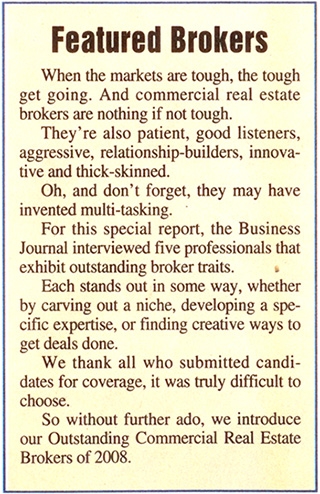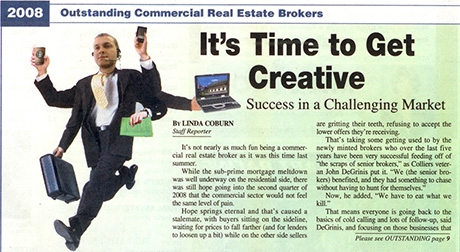 Jeffrey Peldon REMAX Commercial Brokerage
Some people don't know when to quit, some people are overachievers, and then there's Jeffrey Peldon, who is both of those and then some.
He has an MBA in finance and organizational dynamics and a Juris Doctor degree; has been admitted to the bar in New York and New Jersey; and also has a California real estate broker license.
In 2007, Peldon was named the top REMAX commercial broker associate in the state and was number two out of 7,200 nationally. He did that without any staff, assistants or associates.
He's not just trying to pinch pennies, either. Peldon cheerfully admits that he's just too demanding.
"The combination of the hours I work, and the way I work, and the demands I put on myself," are just too much for most, he said. "I would rather spend more time and get the job done and know I don't have to check it."
He said he will work on deals with other agents, but doesn't see the value in having a partner.
"That's my OCD of real estate," he said. "That's the way that I am. Other people are more effective than me, I'll give them that, or will out-earn me, and I'm comfortable with that."
A self-admitted geek, Peldon utilizes technology to work smarter. He never goes anywhere without his PDA. "I can do everything I need to do with that," he said.
Keeping paper to an absolute minimum is another way to streamline. "All of my computers are interconnected. If I make a note on a file while I'm in the field it's replicated in three different locations."
Peldon also works only with title and escrow companies that use PDFs and he's trying to get all of his regular clients to begin using electronic signatures.
Multi-family projects are the focus of his business model. While the apartment sector of the market is very healthy, with vacancy rates in most of the region below 5 percent, transactions have been almost nonexistent, especially in 2008.
"We're probably running about 15 percent of the activity level compared to 2004 to 2006," he said. The interest is there, but lenders, Peldon says, are making things very difficult.
That's where creativity and tenacity come into play, as illustrated in the following example.
"I was working with a client selling a 27-unit busted condo deal – it shifted from condos to rentals … At 27 units, this deal was going to appeal to a relatively small owner type. So I went to seller and said, 'believe it or not, we need to make this more expensive. We need to make the project itself bigger. You have two other buildings. Instead of 27 units, I'd like to sell all 84.'"
The seller agreed and Peldon converted the deal to a portfolio sale on which he has received multiple offers from well-heeled borrowers that don't need to go through the typical lending channels.
"I went from a building that was going to sell in an $8 million to $9 million range to now a $22 million portfolio," Peldon said.
Client Denise Baruch of J & D Baruch Management has had a business relationship with Peldon for the past four years, selling seven of her own properties and eight or so belonging to other investors with whom she partners.
"We put our buildings into sale mode last spring," said Baruch, "and he brought in the buyer … there were lots of complications as there always is…but he just juggled things around and made everybody think they were winners."
The sellers, said Baruch, "had an idea of what our buildings were worth, and I don't know how he did it, but he got us more money as the sellers. We felt overly pleased with the results."